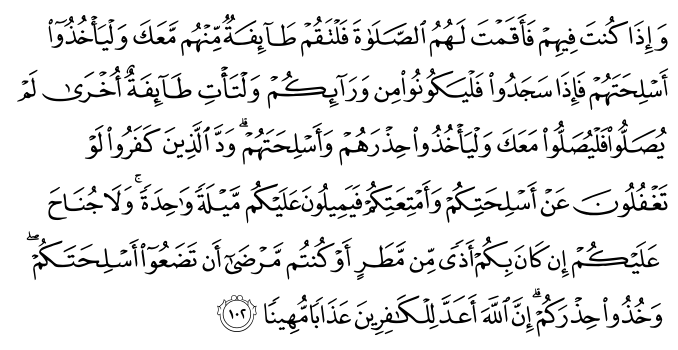 When thou (O Messenger) art with them, and standest to lead them in prayer, Let one party of them stand up (in prayer) with thee, Taking their arms with them: When they finish their prostrations, let them Take their position in the rear. And let the other party come up which hath not yet prayed – and let them pray with thee, Taking all precaution, and bearing arms: the Unbelievers wish, if ye were negligent of your arms and your baggage, to assault you in a single rush. But there is no blame on you if ye put away your arms because of the inconvenience of rain or because ye are ill; but take (every) precaution for yourselves. For the Unbelievers Allah hath prepared a humiliating punishment.
Asad writes,
Lit., "when they have prostrated themselves, let them [i.e., the other group] be behind
you". This idiomatic expression is not to be taken literally: in classical Arabic usage, the phrase kana min wara ika (lit., "he was behind thee") signifies "he protected thee" or (in military parlance) "he covered thee", and is not meant to describe the physical relative position of the two persons or groups.
References:
Asad, Muhammad (1980). The Message of the Quran. http://www.islamicweblibrary.com/wp-content/uploads/2020/04/55877864-54484011-Message-of-Quran-Muhammad-Asad-Islam-Translation.pdf
About Post Author