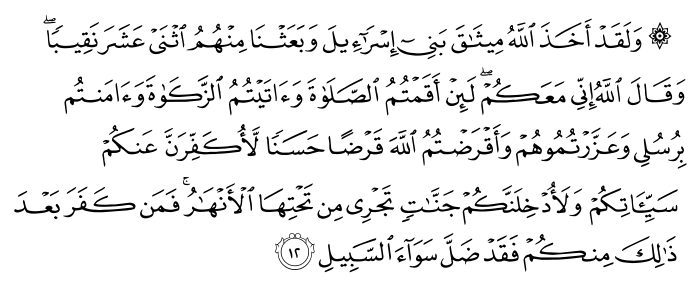 Allah did aforetime take a covenant from the Children of Israel, and we appointed twelve captains among them. And Allah said: "I am with you: if ye (but) establish regular prayers, practise regular charity, believe in my messengers, honour and assist them, and loan to Allah a beautiful loan, verily I will wipe out from you your evils, and admit you to gardens with rivers flowing beneath; but if any of you, after this, resisteth faith, he hath truly wandered from the path or rectitude."
The story of the twelve scouts is recounted in the Old Testament in the Book of Numbers 13:1-16.
References:
Emerick, Yahiya. The Meaning of the Holy Qur'an in Today's English (p. 829). Unknown. Kindle Edition.
About Post Author